Home is a place where families grow, friendships flourish, and your financial needs become financial opportunities. Every mortgage payment is an investment in your equity which can be tapped to lock-down lower rate loans and remove stress from the equation when it comes to mapping your financial journey.
Understanding the Difference between a
Home Equity Line of Credit (HELOC) Vs. Home Equity Loan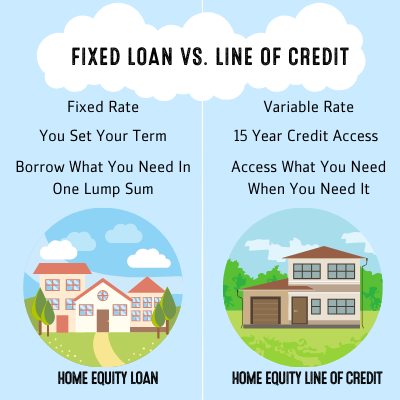 A
Home Equity Line of Credit
o

r
HELOC
is

a line of credit similar to a credit card, only this line of credit is secured by the equity in your home. A limit is set when the line is opened and you can access the funds as needed, only paying interest on the balance that has been drawn. HELOCs have a variable interest rate tied to the federal prime rate which can move up or down once per quarter. At On Tap Credit Union, you choose when and if you draw plus there is no limit to how many times the line of credit can be accessed. You can pay off your principle balance at any time and maintain a zero balance for as long as you'd like with no fee. Funds can be accessed for 15 years followed by a repayment period of up to another 15 years to pay off the final balance in which funds can no longer be access but payments can still be made. This adds flexibility to your borrowing decisions and is frequently used to help manage home improvement repair costs, consolidate high interest debts, or as a safety net to help cover unexpected expenses.

Home Equity Loans, sometimes referred to as Second Mortgages, are more similar to a traditional mortgage loan in which the amount you choose is set and all the funds are delivered up-front. Interest is applied at a fixed rate over the term that you select which can go up to 15 years. This solution works well when the amount you need to borrow is well defined such as consolidating several high interest debts or making a large purchase.
Still need help deciding? Give us a call at 303.279.6414 to speak with our experts or contact us online below and we will give you a call back as soon as possible.