Ready to purchase your next home? Request a consultation with our experts, give us a call at 303.279.6414, or apply in less time than it takes to enjoy your favorite beverage.
What is an ARM loan?
Adjustable Rate Mortgages (ARMs), also referred to as Variable Rate Mortgages, are a type of home loan that includes a variable interest rate which is based on market performance. Like any other type of loan, it comes with its own set of advantages and disadvantages. Let's take a look at a few key differences between ARM loans and the traditional fixed-interest home loan option.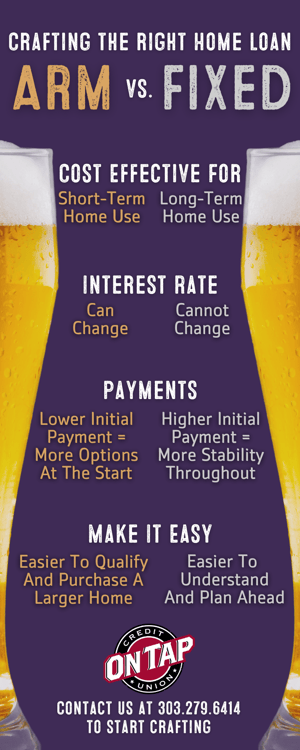 Interest Rate and Payments:
As the name implies, ARM loans naturally have a rate that can fluctuate depending on the strength of the housing market. ARM loans start with a low interest rate at the beginning of the loan and, after a predetermined period of time, will adjust to meet current market standards. This means that your payment can go up, down, or even stay the same once the variable rate takes effect. In contrast, fixed-rate mortgages begin with a higher interest rate than ARM loans and the interest rate will remain constant from start to finish of the loan. Your loan will stay the same even if market rates increase or decrease over time.
Curious what your payment could be? Calculate what you could save here!
Qualifications:
ARM loans require a lower initial payment and come with a lower starting rate than fixed rate home loans. Therefore, it is easier to qualify for an ARM loan given that the payment will consume less of your income than the fixed-rate option. This also means that you can consider a larger pool of options when it comes to picking the home you wish to buy. The key to deciding if the ARM loan option is right for you is to ask yourself if you would be able to afford a higher payment down the road should rates increase after the first few years. While fixed-rate home loans come with a higher interest rate, the consistency provided may be more attractive for those who can afford a higher initial payment and prefer the comfort of knowing what to expect.
Cost Effectiveness:
The ARM loan option is well suited for those who plan to stay in the home they are purchasing for a shorter amount of time. Since the initial rate and payment of the loan is more affordable, the loan will likely cost less than the fixed-rate option when the home will only be used for a short period of time. Alternatively, if the home being purchased is intended to be a 'forever' home, the fixed rate option will likely cost less in the long run.
CLICK HERE TO LEARN MORE ABOUT MORTGAGES WITH ON TAP
Ready to discuss your options and start crafting a home loan that fits both your needs for today and your dreams for tomorrow? Regardless of the type of loan you choose, mortgages are intricate and require the right home financing team. At On Tap, our experts are here to guide you every step of the way.
Get started with your Complete Mortgage Review where we will discuss your goals and help you determine your best steps forward.
* APR = Annual Percentage Rate. The interest and annual percentage rates (APRs) shown are subject to change without notice. The actual interest and annual percentage rate offered may differ depending on your credit qualifications, credit scores, loan to value ratio, type of property, and transaction type. Rates will not be locked until a complete application with all the required supporting documents has been provided and a review of the file has been completed. Rates can be locked for up to 60 days. Maximum conforming loan amount is $625,000. Jumbo loans may be available for loan amounts above $625,000. Financing is available for second homes, condominiums, and investment properties. Some restrictions may apply.
** Maximum combined loan to value 90%. ARM = Adjustable Rate Mortgage. Rate fixed for initial 3,5,7, and 10 yr period then becomes adjustable and may increase or decrease once a year after the fixed term. Maximum rate adjustment after fixed period is 2% per year and 6% over the life of the loan. Index 1 year Treasury Bill. Example of Owner Occupied, single family home, 90% maximum loan to value, 1yr Treasury Rate 1.07%, loan amount of $200,000, 30yr term, 3-1 ARM, Rate 3%, APR 3.197, Year 1 through 3 principal and interest payment $843.21; Year 4 principal and interest $843.21 - $1,053; Year 5, principal and interest $843.21 - $1280; Year 6-30 $843 - $1,520. Rates advertised may be different based on credit history. Some restrictions may apply, terms and conditions are subject to change without notice.