Choosing who to trust your money with is a big decision. Managing your finances and making the best financial decisions for your future can at times seem overwhelming, complex, or just plain frustrating. Too often it can feel like money is in charge of your life instead of you. We all know that our financial wellness makes a huge impact on our opportunities, relationships, as well as our emotional and physical wellbeing, so having the right partner on your side is essential. While banks and credit unions may appear to offer similar options, there are a few key differences that set the two apart in how they approach their service, operations, and communities.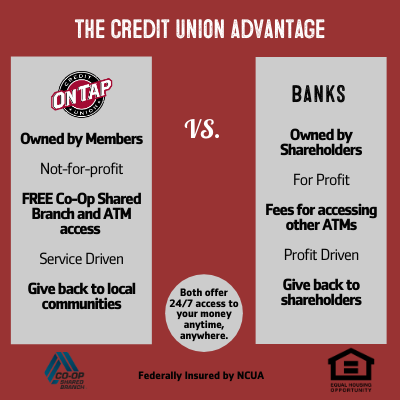 Members Matter Most
As a not-for-profit financial cooperative, the number one goal for a credit union like us at On Tap is to bring more money back to the wallets of our members. Our members are the biggest difference between credit unions and banks. Credit union membership is voluntary and leadership is elected democratically. Everyone has a voice no matter what their financial status may be. Whereas banks are owned by shareholders who benefit from the profits they gain from their customers, credit unions are entirely member owned so we can put more money back in your wallet where it belongs. Instead of making business decisions around what's best for the top few, every move we make is focused on bettering the lives and finances of our members.
The Cooperative Difference
What happens when people work together? We operate smarter, get to where we want to go faster, and enjoy life more along the way. Banks traditionally charge higher fees because they operate to serve their investors, not their customers. Since members own their credit union, we are able to offer fewer fees at lower cost, more free services, higher interest rates for savings accounts, as well as lower interest rates on loans. We work with and for our members to reach a bigger and brighter financial future together. We also partner with other credit unions and cooperatives around the country to bring you over 5,000 service locations and 30,000 service-charge free ATMs (that's more ATMs than any bank in the nation), because accessing your accounts hassle-free should never cost you. Most credit unions also offer comprehensive Online and Mobile Banking options with customizable alerts so you can manage your finances your way, 24/7.
Here To Help Our Communities
Since qualifying for membership at a credit union traditionally requires some type of affiliation to our local communities and credit unions are entirely member owned, we give back by directly supporting the local neighborhoods, businesses, and people that make our communities so unique. Here at On Tap for example, we serve our communities throughout Jefferson, Boulder, Denver and Larimer counties in addition to caring for Colorado craft breweries, local business partners, and other special partners including employees and contractors of MillerCoors, Molson Coors, CoorsTek, Coors Distributing Company (CDC), Terumo BCT, and many others. We know that our incredible communities are a reflection of our members so we work hard to make both as strong as possible by providing free financial education, supporting the local businesses and breweries we love, and crafting solutions with charitable partners to give more back to our neighbors in need. In 2020 for instance, we partnered with the Left Hand Brewing Foundation, Colorado Brewers Guild, and Ball Corporation to supply free ingredients and the recipe for Colorado Strong Pale Ale to brewers across Colorado. The breweries were able to keep 80% of all sales of Colorado Strong Pale Ale to support them and their employees while 20% of the profits were returned to the Colorado Strong Fund to be allocated directly to provide assistance to healthcare, hospitality, service industry, and gig economy workers across the state. This is just one example of how we give back. To learn more about what we're doing right now, check out our website here.

Thinking Of Making A Switch?
Ultimately, who you choose to manage your finances with is a decision worth taking time to make. As your local financial partner, we are here to help guide you toward financial freedom by crafting a plan that fits your needs for today and your dreams for tomorrow, while directly supporting the communities and businesses you love most. If you're considering making the switch, we recommend taking some time to discuss your needs and goals with us directly so we can craft the best solutions for you. We want to hear your story and help you write the next chapter. Give us a call at 303.279.6414 during regular business hours, request a call back from one of our experts here, or get your application started now.